Bring on the Brachycephalic Breeds!
Anybody who has been "in dogs" for any period of time knows what a brachycephalic breed is. These dogs have short muzzles and broad heads and include such popular breeds as English Bulldogs, Boston Terriers and Shih Tzu's, to name a few. These breeds come with their own set of issues that can cause problems, especially in the grooming process. They can have breathing problems, they do not handle heat well and those facial wrinkles need special care to keep them clean. Just washing the face of one of these breeds can be a challenge! Teri will focus on some of the problems unique to these breeds and how we can overcome these issues in the salon, sending out a clean, well-groomed dog with a sweet looking and smelling face.
Handling Mad Mutts
In this info packed power hour, learn how to handle even the meanest of mutts. Join Madeline Rothwell and observe her sweet yet serious ways to tame a terrier, soothe a spaniel and even calm a collie! Madeline will share her trade secrets as a Salon Owner in a Shavedown City, and the techniques she uses to win over the wildest of Weimaraners.
AKC S.A.F.E. Grooming Certification Program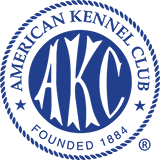 The American Kennel Club recognizes that grooming is important to the overall health, comfort and well-being of pets. Setting the standard in groom safety to ensure these needs are met for all pets in salon, The AKC is proud to offer the Safety in Salons Certification Program to groomers and salons.
As reputable and quality pet care professionals, groomers should consider the safety and welfare of the pets entrusted to their care. The Safety in Salon course will review best practices focusing on pet care, health, and safety. Topics covered include accident avoidance, disease awareness, and sanitation.
All groomers who attend will be eligible, at no additional charge, to become AKC Safety Certified Groomers and receive a frameable certificate and other great benefits.
This course is also an important part of the requirements for the AKC Safety in the Salon Certification. This salon certification gives salon owners a means to show their commitment to the health and safety of pets and in return receive valuable marketing support from the AKC.
The Healthy Salon: Sanitation & Disease Prevention Certification Class
Learn how to disinfect like a microbiologist! Corina will teach you sanitation techniques used in the laboratory that she has incorporated into her regular salon practices. This class will cover how to disinfect everything in your salon using both chemical and mechanical methods, as well as an overview of the common pathogens that cause problems in the industry.
PLUS, disease prevention through vaccination! Learn the science behind how canine vaccines work, and why they need some boosters more often than others. We will discuss what vaccines you should require in your salon to maintain a safe working environment for you and the dogs.
A certificate will be mailed after completion of this four-hour course.
Hair and Skin Certificate Program
Learn the science, the techniques, and product types to successfully put the "why" in what you do. A must for groomers, bathers, and office personnel in the grooming shop and veterinary clinic alike.
1) Understanding hair and skin
Learn the basic anatomy and function of the skin and hair. This is a critical foundation for this class and everything a groomer or bather does. This hour will explain a lot of the science about how nutrition, sebum and basic anatomy work so you can understand the "why" in what you do.
2) Understanding the difference in coat types and the products that need to be used
In this class you will learn the needs of the different coat types so you can make better decisions in the products you use for maximum results.
3) Understanding the common things that go wrong and that lead to skin issues
Always wonder why these skin conditions occur and reoccur? Does technique play a factor? Could I have caused that issue? When the client or veterinary accused me of causing the issue, is that true?
4) The science to follow in treating skin issues
Learn methods, techniques and types of products to fix the skin problems when they occur. Learn principles that will lead to success when treating skin issues, how to grow hair back on those shaved down dogs, and why steroids and antibiotics and the typical therapies for skin don't always work.
Learning to Trust the Brush Again
Many of the pets we groom are rescues that come with an uncertain history, a huge mistrust in strangers, or fear of grooming in general. This class discusses the different methods and techniques for helping pets gain trust in the grooming process.
Stylin' Scotties

Join Jessica in this one-hour live grooming seminar dedicated to the clipped Scottish Terrier. Forget the hula skirt and learn proper pattern placement, best practices for prepping the coat and the correct tools and blades/attachment comb to use for this stylish trim.
Oh, Those Super Short Styles
Living in farm country, Mindy has learned how to make the super short styles still look cute. As much as we don't like it, we still have clients that want the 5F all over. Learn how to make those cuts look cute so that your clients keep coming back.
Simple Techniques to Get a Difficult Dog to Respond the Right Way
Sarah will go over simple, yet effective techniques that will change the way a dog with no manners responds to you. Speaking "Dog" Doesn't come naturally, but Sarah will teach you all you need to know!
K9 Balance: Co-Working with a Professional Trainer
Please join dog trainer Anny and master groomer Dana on a complete explanation on how both businesses came together to form a partnership rehabilitating, training and desensitizing once fearful 'dangerous' dogs to accept grooming.
The Pet Poodle
Poodles can be challenging to groom. Anne will discuss grooming pets from Important preparation of coat to finishing touches. How to talk with clients to achieve the look they want with a realistic length. As Anne often says " you don't need a lot of hair to create a beautiful haircut, you just need hair in the right places.". She will teach how using blades and snap on combs can help improve speed. She will show how to add style and flash to pet poodles. Products and finishing touches that will set you apart from other groomers.
The 15 Coat Types and How to Correctly Groom Them
While there has never been an official list of dog coat types for the grooming industry, maybe there ought to be! While individual dogs vary even within breeds, knowing what tools and techniques are appropriate to the coat type presented to you for grooming is essential. Jennifer has identified and compiled the fifteen distinct coat types that require specific and separate grooming strategies and equipment. Each one has "Do's and Don'ts" based on the actual scientific, genetic, and physical structure of the hair or fur of that type dog. Learn how to groom each coat type based on the best practices for those breeds. All coat types fall into two general genetic categories - Hair and Fur.
Hour 1) Hair
This first hour goes in-depth on "Hair" coat types, and the matting that goes with them. Combination coats that have the problems of both will also be addressed. Hint: some rhyme with "oodle". Half of all dogs have a double coat.
Hour 2) Fur
Learn to separate the "matting" from the "shedding" in the Fifteen Coat Types' second hour. We will deep dive into "Fur" Coat types and best practices for their unique care. We will address and resolve any remaining controversy about the proper care of the double coat. Other coat types also shed in different ways. We will identify the most effective equipment, tools, and techniques for each of the Coat Types.
After this seminar, you will be able to set yourself apart as the groomer in your area that is an expert on differing canine coat types and their proper care.
Two Sides to Every Trim
This seminar will focus on the show trim used in competition and the everyday trim used at the salon, demonstrated on the same breed. This unique seminar will allow you the opportunity to see both sides and the differences and similarities of the two trims. This will expose you to the competitive side of grooming, demonstrating how to get that competitive edge in the ring through going over the finer points of the show trim, while at the same time making it relatable to everyday grooming. You'll learn how to improve the pet trim in a way that can be done in a short amount of time at the salon and still look like the breed.
Barkleigh Pet Professional First Aid/CPR Certification
As a pet care professional, you want to be equipped with the skills to handle medical emergencies that arise while a pet is in your care. Whether a pet becomes ill, injured, or needs help in a disaster, this course will teach you how to respond.
In this two-hour interactive course you will learn emergency care, how to stock a first aid kit, perform CPR, respond to breathing and heart emergencies (including choking), and disaster procedures, with some of these exercises being demonstrated on a live dog. This unique course is customized for pet care professionals and you will learn how to respond to emergencies specific to your industry. Upon completion of this course, you will receive a frameable certificate stating that you are certified in dog and cat First Aid & CPR.
Your Brand Is Your Business
Most professional groomers know how to groom, and they have some business skills. But there are certain aspects that are always left on the table and usually are the most important. This seminar will help you figure out your target audience and make your business become a household brand that everyone in your neighborhood will recognize.